January-March, 2019
Teach Only Love for That Is What You Are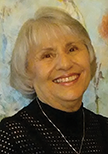 "Teach Only Love for That Is What You Are" Do I Believe It?
I just finished a wonderful two weeks of listening to the first global conference based on A Course in Miracles called "Awaken to Love." I hope you also got to hear at least a few of the wonderful teachers that presented. (By the way, if you didn't hear Mary & Robert's interview, it soon will be posted on the POL website. It truly was one of the best I heard and well worth your listening time.)
Anyway, as I was saying, the conference ended and I wanted to listen to a recording of Diedrick Wolsak's talk which I had not been able to listen to when he did his live interview. For those of you who may not know Diedrick's work, he is the founder of Choose Again as well as a book by the same title. Choose Again is a wonderful process based on A Course in Miracles that has the purpose of removing the ego beliefs that hold us back from being our true Self, i.e. the Self of Love. I have been to two of Diedrick's workshops and have been practicing his method for the last three years. I have found the process invaluable in my own awakening process.
Looking forward to listening Diedrick's talk, I got in bed early, turned on my tablet and then the recording. Oh my! Was I in for shock! What I understood Diedrick to say was that all this "Awaken to Love" was a wonderful thought, but pretty impossible for most of us (including himself) because we really don't love ourselves. Indeed, according to Diedrick, it is quite the opposite. We pretty much all hate ourselves (albeit unconsciously), and until we clear out that hate our ability to "Awaken to Love" is just another egoic fantasy.
Way to pour ice cold water on everything, Diedrick! Part of me wanted to turn off the rest of the interview. Here I was feeling all warm and fuzzy about love and my "Awakening" to it. Indeed, I had a rough draft of another article I was going to submit to Miracles News that reflected this warm fuzziness, and now Diedrick is telling me to be careful not to fall for another egoic hoax. Actually, all I think he was really saying is that if we truly want to "Awaken to Love", we must clear out the obstacles we have put in front of it, and those obstacles are the beliefs we, from our ego mind, made up about ourselves; beliefs that were developed in childhood and are not the truth of who we are.
These beliefs only serve the ego's purpose of making us feel separate and alone. Diedrick sited Lesson 93 in A Course in Miracles Workbook entitled: "Light and joy and peace abide in me." This lesson clearly points out how we truly feel about ourselves. The first sentence of the first paragraph says: "You think you are the home of evil, darkness and sin." Wow! Jesus knows what dark beliefs the ego wants us to believe to keep us separate from God, doesn't he!
Diedrick's "Choose Again" method has 6 steps (and is well outlined in his book), and he wanted to spend the majority of his interview time taking anyone who was willing through the process. To my surprise, several brave people volunteered (brave because it meant baring their souls to thousands of people). As I listened to these wonderful people go through the process and expose their deepest dark beliefs about themselves, I had an "Ah ha" moment — I realized that my deepest dark belief about myself is that I ruin everything from my mother's life, to events in my marriage that led to divorce, to my children, and to my own life in many ways.
I got up the next morning and immediately read Lesson 93 over and over. In the first two paragraphs, Jesus does not mince words about what our true beliefs about ourselves are, but then he goes on for the next nine paragraphs telling us why this isn't true. I sat with pen and journal in hand and contemplated the lesson and I heard Holy Spirit say to me:
"The truth is you were and always have been God's perfect child. Light and joy and peace have always abided in you from the moment you were born (actually before that), and the belief about not being wanted was a story you were told. Had you been told the opposite story, you would have had a whole different set of beliefs. Isn't that amazing? Do you see by this how it is the stories you were told (or you told yourself) that then become your judgments of yourself and, from these judgments, you (your ego) made up your false beliefs? The stories are built on stories other people told you and those people had their beliefs and their beliefs came from stories other people told them, and so on and so on. Can you see from this how such dark illusions are made?
Change your beliefs to change the world. All are one! All are worthy! All are God's holy children whom He loves equally and without exception. Light and joy and peace abide in each of you and only your old, tired stories cover this up. Let go of the stories! Be who you are right now, the holy child of God, filled with love to give to all. Let love be your story every day. I will help you if you turn to Me to remember your truth. Just say:
Holy Spirit, please remind me who I am — I forgot, I am sorry, please forgive me and show me the truth. Thank You, I love You. Amen
Then listen only to My voice and I will speak the truth to you. Believe that and only that. That is how you hand it over. That is how you take away the power the ego has had over you all these years. Let Me love you. You are worthy, you are beautiful, you are holy, and you are loved."
I saw a wonderful quote by Deepak Chopra that seemed to put all this into a very simple sentence: "Awakening is not changing who you are, but discarding who you are not."
I am willing to discard those old beliefs! I know that they are what chain me to the self I made. They do not serve me or my brothers. In my practice of releasing old beliefs, in addition to reading Lesson 93 over and over, I am also doing the same with Lesson 127, "There is no love but God's."
In this lesson, Jesus tells us to: "Call to your Father, certain that His Voice will answer. He Himself has promised this. And He Himself will place a spark of truth within your mind wherever you give up a false belief, a dark illusion of your own reality and what love means. He will shine through your idle thoughts today, and help you understand the truth of love." (W-127.9:1-4)
The mirror affirmations (affirmations that are to be done as you look at yourself in the mirror) that I wrote in my book, Finding Your Self in the Mirror, for Lesson 93 also helps me in eliminating those old beliefs. I pray they might also help you. The affirmations are:
1. I am sinless.
2. My sinlessness is guaranteed by God.
3. I am as God created me.
4. I am one Self.
5. Light and joy and peace abide in me.
6. In gratitude, I accept this truth.
Rev. Barbara Goodman Siegel is a Pathways of Light minister living in St. Louis, Missouri, and author of Finding Your Self in the Mirror: Awakening Through Mirror Affirmations for the 365 Lessons of A Course in Miracles.
Email:Btheblessing7@gmail.com Web: http://www.barbaragoodmansiegel.com
© 2018, Pathways of Light. https://www.pathwaysoflight.org
You may freely share copies of this with your friends, provided this copyright notice and website address are included.
---
Back to main page of Miracles News.
Has this page been helpful to you?
Your contribution in support of this site is greatly appreciated. To make a tax deductible contribution or become a supporting member online, click here.
Or send a check or money order to Pathways of Light, 6 Oak Court, Ormond Beach, FL 32174-2623 (USD only, please) Thank you for your support.