January-March, 2019
What Is Time For?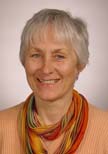 When I think about time, I think 'my time.' I don't think about time as a concept but rather, "How am I using my time?"
I read in ACIM that time is a gift from God that allows me to journey back Home, an opportunity to go very slow and move through the molasses of ego thoughts that bring up fear and hesitation, doubt and worries. It is the thought of separation that we hang on to and that slows us down. So we need time to 'get it,' to accept that 'there is a better way.'
Time makes us feel guilty that we are even in time. And so, when I think about 'my time,' my use of time, I immediately feel like I should be doing something else or that there are so many things I am not doing and should be, or that this is taking too long, what is wrong with me, etc.
The Course tells us:
"Guilt feelings are the preservers of time. They induce fears of retaliation or abandonment, and thus ensure that the future will be like the past. This is the ego's continuity. It gives the ego a false sense of security by believing that you cannot escape from it. But you can and must. God offers you the continuity of eternity in exchange. When you choose to make this exchange, you will simultaneously exchange guilt for joy, viciousness for love, and pain for peace." (T-5.VI.2:1-7)

We have A Course in Miracles, which explains that miracles shorten and actually — momentarily — eliminates time… and space. The miracle is saving us possibly thousands of years or perhaps several lifetimes.
Does that matter to me right now? Perhaps, but perhaps not so much. I still feel I need to do my work, pay my bills, do the laundry, get ready for tomorrow, etc. How can I worry about other lifetimes? What miracle will take care of all those chores and 'have -to-do's?
And yet, we all know that we are here to find our way Home. We use time for that, also. How diligent am I in that? I forgot that is my true purpose, but it often gets lost in time. Do you get lost in time?
"Delay does not matter in eternity, but it is tragic in time. You have elected to be in time rather than eternity, and therefore believe you are in time. Yet your election is both free and alterable. You do not belong in time. Your place is only in eternity, where God Himself placed you forever." (T-5.VI.1:3-7)
Here is how the ego fools me about time:
Delay does not matter in eternity, I read, and so the ego takes that alone as the truth: I am in eternity and so time does not matter. I choose to disregard the second part: it is tragic in time. Why? Because I am fooling myself into thinking I am in eternity but I (the ego-body self) knows I am in time, yet I am not, my true Self is not. It can be very confusing! I need to be more honest with myself. I am pretending to be in time, and so the ego tells me: time does not matter, yet I am allowing myself to be convinced of what the ego wants me to think. Jesus says:
"Vigilance is not necessary for truth, but it is necessary against illusions." (T-6.V.8:9)
And so I resolve to be more vigilant for the Truth because I want to be free from ego interference. I truly do. I don't like to feel guilt and worries and frustration that things go too slow and often wrong. And somehow I fall into those feelings again and again.
Here is where my ego energy really gets in the way of things, and I feel stumped how to change it:
I am learning to play better tennis. I have noticed the ego is interrupting my decision to strike the ball correctly only at the very last nanosecond before I actually hit the ball and turns my grip to a very poor position, while I watch the ball fly off the court. It is very frustrating for me to change that. I know that at some time in the past I have given the ego permission to 'make me fail' because I thought that is what I wanted (I remember when I made that decision at age 5 years old). But the energy behind this decision is so strong and so subversive that I have tried thousands of times to change that. At one point I had to hold the racket so firm in a particular grip because it felt as if another person wanted me to change it to the wrong grip. I could not believe it. So many times in my life I have tried to change that powerful energy that makes me fail, and I can't seem to get a handle on it.
Yet I had to look at it clearly. I recognized that the ego used that nanosecond before a particular decision is executed — often an important decision, and she, the ego, would confuse my mind so that I was lost and could not remember what was the right decision — and often made a major mistake. This has happened so often in my life and brought me to tears again and again. It seems that, when I put more importance on making a right decision, the ego would turn it around at that very moment, and make me fail. Yuck.
In Chapter 8 of the Text it says:
"There is nothing so frustrating to a learner as a curriculum he cannot learn. His sense of adequacy suffers, and he must become depressed. Being faced with an impossible learning situation is the most depressing thing in the world. In fact, it is ultimately why the world itself is depressing. The Holy Spirit's curriculum is never depressing, because it is a curriculum of joy. Whenever the reaction to learning is depression, it is because the true goal of the curriculum has been lost sight of." (T-5.VI.9:4-5)
I will be released from fear when I allow my Spirit to reinterpret my thoughts.
The Course states:
"Now you must learn that only infinite patience produces immediate effects. This is the way in which time is exchanged for eternity. Infinite patience calls upon infinite love, and by producing results now it renders time unnecessary. We have repeatedly said that time is a learning device to be abolished when it is no longer useful. The Holy Spirit, Who speaks for God in time, also knows that time is meaningless. He reminds you of this in every passing moment of time, because it is His special function to return you to eternity and remain to bless your creations there. He is the only blessing you can truly give, because He is truly blessed." (T-5.VI .12:1-7)
So, what is time used for?
I want to remember that time is a gift from God to His Son to bring Him back Home. And so I accept my wise Guide, the Holy Spirit, to tell me what I need to watch out for, to notice when my thoughts turn to fear or worry and know what to replace them with right then and there, no matter where I am or what I do, and I say:
My safety is guaranteed by God. I choose to join with God and let Him lead me through this seemingly difficult time. I choose the Joy that He offers, the Peace of Mind and Safety of the body. It is all given. I follow His ways gladly. And I am grateful.
May time always be a string of moments of Joy. Thank you.
Rev. Maria Kingsley is a Pathways of Light minister living in Tucson, Arizona. Email: .(JavaScript must be enabled to view this email address) 520-780-0170
© 2018, Pathways of Light. https://www.pathwaysoflight.org
You may freely share copies of this with your friends, provided this copyright notice and website address are included.
---
Back to main page of Miracles News.
Has this page been helpful to you?
Your contribution in support of this site is greatly appreciated. To make a tax deductible contribution or become a supporting member online, click here.
Or send a check or money order to Pathways of Light, 6 Oak Court, Ormond Beach, FL 32174-2623 (USD only, please) Thank you for your support.